(updated as of December 9, 2020)
Visiting international undergraduate level (research-only) students are current undergraduate students attending international universities who come to Rice University to engage in experiential research-only learning for less than 1 year. This often occurs in the summer months. Visiting International Undergraduate Researchers do not yet have a Bachelor's degree, or Bachelor's degree equivalent, and are not pursuing an undergraduate degree at Rice.

These students are processed as Visiting Undergraduate Researchers on a J-1 Exchange Visitor visa (or in some cases an F-1 visa). They will be required to enroll in a prescribed course of study with a focus on experiential research-only learning. Below you will find the required documents and procedures.

For a printer friendly version, please click on the image below.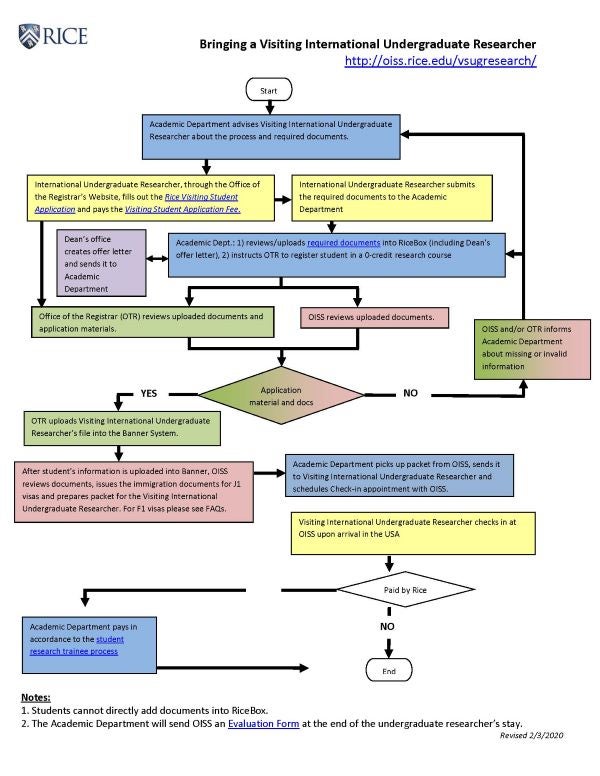 J-1 Visa Required Materials

The application must be completed, the application fee must be paid, and all of the documents must be uploaded at least 90 days before the visitor's expected arrival date at Rice.

J-1 Visa Required Materials

| Application, Application Fee, and Required Documents to Upload to RiceBox | Provider | Where to Submit? |
| --- | --- | --- |
| | Student applies with application from the Office of the Registrar's (OTR) **see Resources below | Student completes online |
| | Student - Online in the application | Student completes online |
| | Academic Department requests from Student | Academic Department uploads to RiceBox |
| | Academic Department | Academic Department uploads to RiceBox |
| 5. J-1 Visiting Undergraduate Researcher Statement of Understanding | Academic Department requests from Student | Academic Department uploads to RiceBox |
| | Sponsoring Rice Faculty Member | Academic Department uploads to RiceBox |
| 7. English Proficiency Proof (e.g. English Test or Skype Interview Score) | Student / Academic Department | Academic Department uploads to RiceBox |
| 8. Copy of Passport ID Page | Academic Department requests from Student | Academic Department uploads to RiceBox |
| 9. Transcript | Academic Department requests from Student | Academic Department uploads to RiceBox |
| 10. CV / Resume | Academic Department requests from Student | Academic Department uploads to RiceBox |
| | Academic Department requests from Student | Academic Department uploads to RiceBox |
| 12. Proof of Financial Support (in most cases, only 50% of the funding may come from personal funds) | Academic Department requests from Student | Academic Department uploads to RiceBox |
| 13. Proof of paid $300 J-1 EV Rice administrative fee. To make payment, visit https://signup.rice.edu/JScholarFee/ | Academic Department requests from Student | Academic Department uploads to RiceBox |
| 14. Dean's Offer Letter | Academic Department | Academic Department uploads to RiceBox |
| 15. Proof of meningitis vaccination if student is under 22 years of age | Academic Department requests from Student | Academic Department uploads to RiceBox |
| 16. Copy of U.S. immigration documents (if applicable) | Academic Department requests from Student | Academic Department uploads to RiceBox |

F-1 Visa Required Materials

If your Visiting International Undergraduate Researcher is on an F-1 visa, the student will still need to fill out the online Visiting Student Application, pay the Visiting Student Application Fee, and the Academic Department must upload the following documents to RiceBox:
1) Current immigration documentation (i.e. I-20, F-1 visa stamp, I-94 record)
2) Authorization/approval from a Designated School Official in home institution
3) Visiting UG Academic Placement Plan
4) Passport identification page(s)
5) Transcript
6) CV
7) Dean's Offer Letter
8) Proof of the meningitis vaccination if the student is under 22 years of age

Deadlines

Please note that in addition to the standard 90-day lead time required for immigration processing, Academic Department must plan for the appropriate term of enrollment based on the Office of the Registrar's standard registration deadlines. For more information, contact the Office of the Registrar.

Mandatory Evaluation

Rice's Visiting International Undergraduate Researcher program supports the Vision for the Second Century, Second Decade (V2C2), through encouraging meaningful academic and research exchange collaborations with partner institutions. An evaluation for the Visiting UG Researchers is needed at the completion of their program. Please click here for the evaluation form, which takes approximately 3 - 5 minutes to complete.

Graduate and Postdoctoral Studies Request

To maximize recruitment efforts, you are encouraged to reach out to Dean Matsuda (matsuda@rice.edu) to schedule a meeting for your Visiting Undergraduate Researchers to discuss graduate school opportunities here at Rice.

Resources

Frequently Asked Questions

Q: Is the Visiting International Undergraduate Researcher required to upload documents into RiceBox?
A: No, only Academic Departments have access to RiceBox.
Q: How do Academic Departments gain access to RiceBox?
A: Please contact Justin Schilke, Associate Registar, Office of the Registrar, or his designee. Contact information: jschilke@rice.edu, 713-348-3157.
Q: Do Academic Departments need to upload the Dean's Offer Letter as well as other required documents to RiceBox?
A: Yes, please upload all required documents to RiceBox.
Q: Do Academic Departments need to send OISS hard copies of the documents?
A: No, OISS will receive all required paperwork through RiceBox.
Q: Do Academic Departments need to do anything else after submitting required documents to RiceBox?
A: Yes.
1) Send an email to OISS (oiss@rice.edu) and Justin Schilke (jschilke@rice.edu) at the Registrar's Office notifying them that documents have been added to RiceBox.
2) Once the DS-2019 has been issued by OISS, the Academic Department must pick up the immigration packet and send it to the student.
3) Confirm that mandatory Immigration Check-in appointment for the student with OISS by calling 713-348-6095.
Q: Do the Visiting International Undergraduate Researchers need to visit Payroll on their first day if they are being paid by Rice?
A: Yes, all Visiting International Undergraduate Researchers that are being paid by Rice must have an EPAF and go to Payroll on their first day.
Q: Does the J-1 Visiting International Undergraduate Researcher need to have health insurance?
A: Yes, all J-1s (and their dependents) are required to have health insurance for the full duration of their program at Rice. Please check the Scholar Health Insurance website for additional health insurance information.
Q: What is the process for registering the Visiting International Undergraduate Researcher for a 0-credit course?
A: Please contact the Office of the Registrar for directions.
Q: What if the Visiting International Undergraduate Researcher is on an F-1 visa?
A: If your Visiting International Undergraduate Researcher is on an F-1 visa, the student will still need to fill out the online Visiting Student Application, pay the Visiting Student Application Fee, and the Academic Department must upload the following documents to RiceBox:
1) Current immigration documentation (i.e. I-20, F-1 visa stamp, I-94 record)
2) Authorization/approval from a Designated School Official in home institution
3) Visiting UG Academic Placement Plan
4) Passport identification page(s)
5) Transcript
6) CV
7) Dean's Offer Letter
8) Proof of the meningitis vaccination if the student is under 22 years of age