Curricular Practical Training (CPT) is a temporary work authorization given to F-1 students to receive training required by a course or program. The training must also be directly related to their major field of study. As defined in the Code of Federal Regulations (CFR), CPT is "alternate work/study, internship, cooperative education, or any other type of required internship or practicum which is offered by sponsoring employers through cooperative agreements with the school" [8 CFR§214.2(f)(10)(i)]. The regulations also state that CPT must be an integral part of an established curriculum.

Submit your CPT application to OISS at https://oiss.rice.edu/applyCPT. Applications must be submitted at least one week before the requested start date. Requests with an earlier start date will be rejected.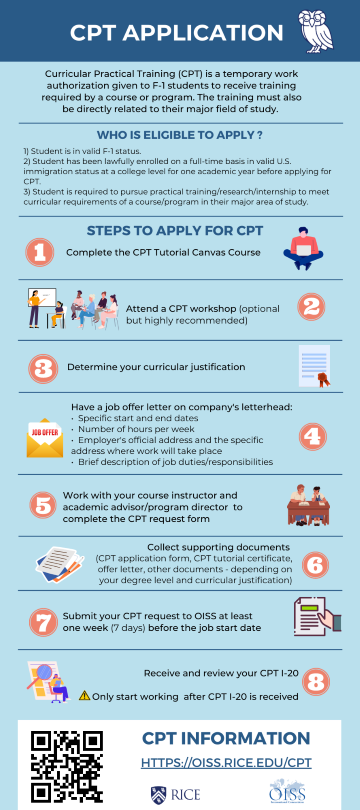 Quick Facts about CPT
CPT employment may not delay completion of the academic program.
CPT is available only prior to the completion of your degree program.
You must have a job offer at the time of application.
CPT applies to both paid and unpaid positions.
CPT must be authorized by OISS before you start the position.
CPT is employer specific. Separate authorizations are required for each employer.
CPT is semester-based. Separate authorizations are required for each semester.
Only part-time CPT (i.e., up to 20 hours/week) is available during the academic semesters, and full-time CPT (i.e., over 20 hours/week) can only be authorized during the summer and winter breaks.
12 months or more of full-time CPT will make you ineligible for OPT (part-time CPT does not affect your OPT eligibility).
Learn more by taking the CPT Tutorial Canvas Course (required in order to apply for CPT)
Quick Links to CPT Forms
Who is eligible for CPT?
Students who meet certain conditions may be eligible for CPT:
1) Student is in valid F-1 status.
2) Student has been lawfully enrolled on a full-time basis at a SEVIS approved school in valid U.S. immigration status for one academic year prior to applying for CPT. Please note that if you started your academic program remotely from abroad due to COVID-19, the time spent studying remotely unfortunately does not count towards the one academic year requirement.**
3) Student is required to pursue practical training/employment to meet curricular requirements of a course/program in their major area of study.

**Special note: Some graduate programs may officially require practical training during the first year of the program. In this very special case only, CPT may be available to a graduate student before the one academic year requirement is met.
Available dates for CPT
CPT is approved on a semester basis. Requested dates indicated on the CPT Course Instructor & Faculty Advisor Form and the offer letter should fall within the ranges listed below and a separate CPT request is required for each time period if employment continues beyond these ranges:
• Fall 2023: August 21, 2023 – December 12, 2023 (No more than 20 hours/week)
• Winter Recess 2023-2024: December 13, 2023 – January 7, 2024 (Can be full-time)
• Spring 2024: December 13, 2023 – April 30, 2024 (Can be full-time until January 7. After January 8, no more than 20 hours/week)
• Summer 2024: May 1, 2024 – August 25, 2024 (Can be full-time)
• Fall 2024: August 26, 2024 – December 17, 2024 (No more than 20 hours/week)

Exception: Due to the nature of the Preceptorship Program, B-ARCH students may be eligible to submit one CPT request for the full duration of their Preceptorship.
Types of CPT available at Rice
All CPT authorizations require a curricular justification. There are three options that may be available to students at Rice depending on their degree program.
CPT required by a course
CPT required by a degree program
CPT required for thesis/dissertation research
How to Apply for CPT
FAQs for CPT