OISS is happy to organize events and activities during the summer and winter breaks. All international students and scholars, as well as their family members, are welcome to attend any and all of our activities. For more information, please see our Event Calendar.

Here is the scheduled for the OISS 2022 Summer Events! More information about all the events may be found below the picture. The schedule may change, so check back often!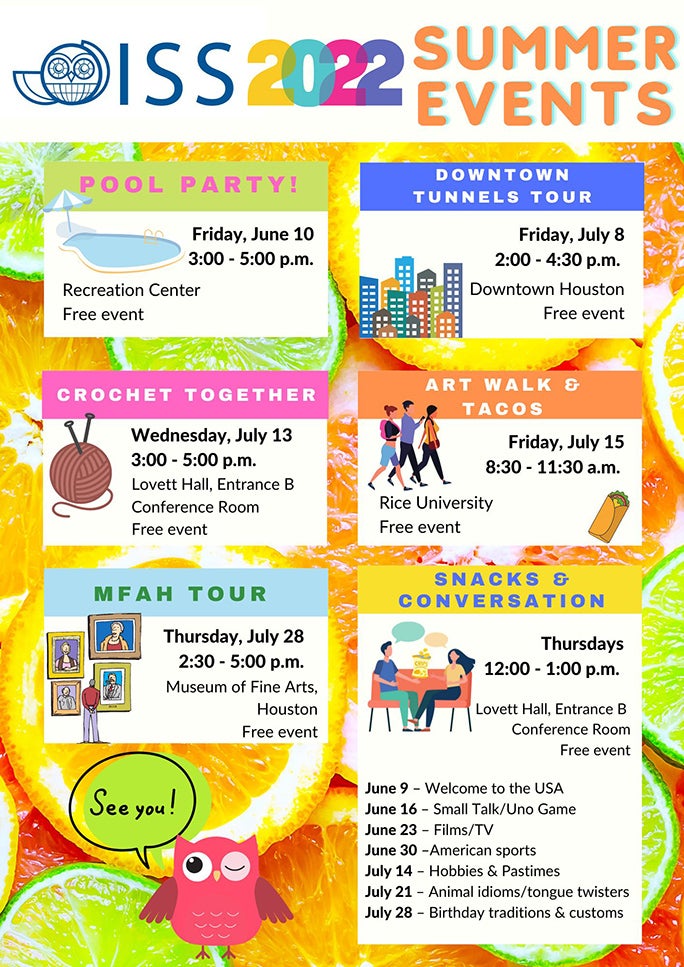 Summer Events 2022
Snacks & Conversation – Thursdays, 12:00 - 1:00pm

Join us for weekly Snacks & Conversation! Let's chat about a variety of fun themes with OISS staff! All sessions will be on Thursdays at noon, in the Lovett Hall Entrance B Conference Room (1st floor).

June 9 – Welcome to the USA & Introduction to Rice, Things to do in and around Houston, USA culture
June 16 – Small Talk/Uno Game
June 23 – Films/TV
June 30 –American sports
July 14 – Hobbies & Pastimes
July 21 – Animal idioms/tongue twisters
July 28 – Birthday traditions & customs

Pool Party – Friday, June 10, 3:00 - 5:00pm

Join OISS at the Recreation Center on June 10th from 3:00 p.m. to 5 p.m. We'll celebrate summer with music, snacks and lots of pool games!

Please register to attend the event: https://riceuniversity.co1.qualtrics.com/jfe/form/SV_eleF2Mlda84Wuy2

If you have any questions please contact marjorie@rice.edu.

Downtown Tunnels Tour – Friday, July 8, 2:00 - 5:00pm

Explore Houston's Downtown Tunnels!

Discover one of Houston's best kept secrets: The Underground Tunnels!

When: Friday, July 8, 2022
2 – 5 p.m.
Meet at 2 p.m. at Lovett Hall, Entrance A

Travel: We will walk to the METRO Rail in the Medical District, then get off at Main Street Square NB.
The tunnel entrance is on the corner of McKinney and Main.

The event is free. You will need to purchase for your MetroRail ticket ($1.25 each way)

Please register to attend the event: https://forms.gle/vroKPTaHaJYkPtaC7

Crochet Class – NEW DATE: Wednesday, July 13, 3:00 - 5:00pm

Join us to learn about some basic crocheting technique from our own Cynthia and enjoy a relaxing afternoon with OISS. Crochet and knitting have been shown to have a calming effects all while you're creating your masterpiece. OISS will provide crochet hook and yarns, and all you need is to learn and enjoy. Limited spots available so please reserve yours below.

If your plans change please let Agnes (rv5@rice.edu) know as soon as possible so someone else can take your reserved spot.

NEW Date: Wednesday, July 13
Time: 3:00 - 5:00pm
Place: Lovett Hall, Entrance B Conference Room
Cost: Free (tool and materials provided by OISS)
Register @ https://bit.ly/OISS-Crochet

Art Walk & Tacos – Friday, July 15, 8:30 - 11:30am

Please join us for an Art Walk & Tacos!

This will be a great opportunity to walk around campus, learn about the amazing public art pieces and the artists, meet friends, and enjoy some delicious tacos.

Register at https://bit.ly/3A5yPfY!

MFAH Tour – Thursday, July 28, 2:30 - 5:00pm

You are invited to enjoy the amazing international collections of modern and contemporary art at the Museum of Fine Arts, Houston, Nancy and Rich Kinder Building with OISS!

We will meet at the Lovett Hall Sallyport, and walk to the Museum together. The event officially ends at 5:00pm, but you can stay longer if you wish, as the museum closes at 9:00pm. This event is free!

Register at http://bit.ly/MFAH-OISS!
For Summer Events in previous years, please click here.

For Winter Events in previous years, please click here.