OISS is happy to organize events and activities during the summer and winter breaks. All international students and scholars as well as their family members are welcome to attend any and all of our activities. For more information, please see our Event Calendar.

Here is the schedule for the OISS 2020 - 2021 Winter Events! More information about all the events may be found below the picture. The schedule may change, so check back often!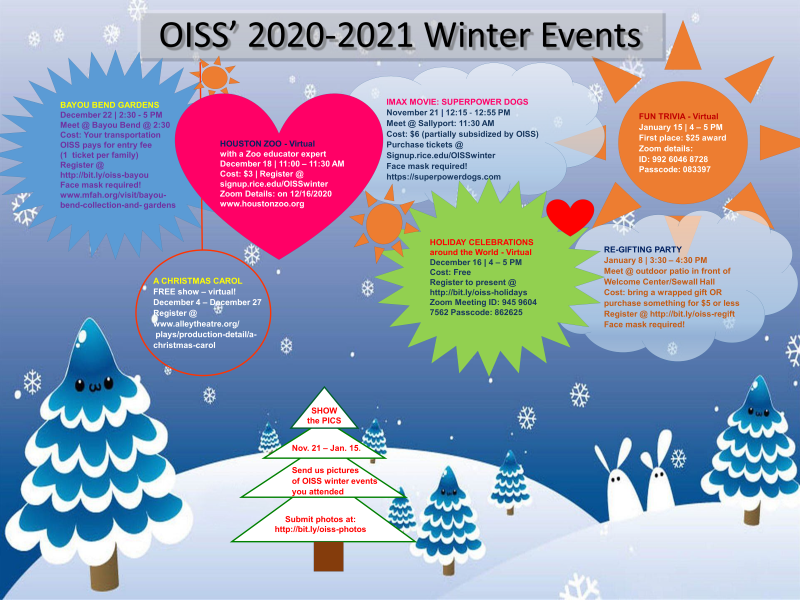 Winter Events 2020 - 2021
IMAX Movie Outing - Saturday, November 21, 11:30 am - 1 pm

Limited seats available!

Please join us to watch "Superpower" Dogs at the Wortham Giant Screen Theater, Houston Museum of Natural Science (HMNS).

Whether you are a born animal lover or have not had a pet in your life you'll leave inspired by the true story of these extraordinary canines, their heroic actions and unconditional love, and you'll never look at men's best friends the same way again.

We'll leave from Sallyport at 11:30 am and walk to the museum together.
Movie Time: 12:15 – 12:55 pm
After the film you may visit the permanent exhibits which is free with your Rice STUDENT ID, or walk to through the Centennial Gardens across from HMNS.

Cost: $6 per ticket is partially subsidized by OISS.
Tickets:
1) Purchase ticket at https://signup.rice.edu/OISSwinter/ (available starting November 2nd)
2) Schedule a time to pick up your ticket in the OISS via https://calendly.com/oiss-rice/document
More information on the movie: https://superpowerdogs.com/
Special note: Face mask required.

A Christmas Carol - December 4-27

Can performance theatre adapt to our current Covid-19 virtual world? The Alley Theatre is doing just that and they are making it a free virtual performance for all Houstonians! This is a great virtual event provided by the Alley Theatre that you can do on your own, at your own time, and safely at home during December 4 – December 27!

Description from Alley Theatre website: A highly inventive, digital adaptation of the Dickens classic, pared down to its essential elements. A resident company of actors assemble online to perform a new production of the heartwarming Christmas story. With everyone performing from home, creating a magical world of holiday make-believe is no easy feat. The socially distanced troupe brings this holiday classic to imaginative new heights. It will be A Christmas Carol like no other.

To register for the FREE performance and for more information: https://www.alleytheatre.org/plays/production-detail/a-christmas-carol

Special Note: Covid-19 has shut down the theatre and performance art industry. If you are able to, please consider making a donation to The Alley Theatre during this difficult time.

CANCELED – Holiday Celebrations Around the World

This event has been canceled.

Holiday season is coming and we'd love to learn about holidays and celebrations from around the World! What is the beloved holiday of your country, culture, religion or family that is celebrated in a unique style?

We invite you to share your favorite traditions, costumes, music, songs, dance, food, or anything else from major countrywide holidays to local or family celebrations. Do you want to sing a song, play an instrument live or have you already recorded it? Do you want to show off a beautiful traditional costume? We can't wait to learn about your culture, hear your stories, see your pictures or watch your performance!
You can participate by signing up for a short presentation or join us via Zoom to learn about others'.

Sign up for a presentation: http://bit.ly/oiss-holidays
Join for learning about others: Zoom Meeting ID: 945 9604 7562 | Passcode: 862625
https://riceuniversity.zoom.us/j/94596047562?pwd=eXEvamRvU0NCQTRjc1QrQ2xpZHdwZz09

Virtual Houston Zoo Visit - Friday, December 18, 11 - 11:30 am

Have you visited your Zoo lately? Are you curious about Big Cats and Asian Elephant Herds? Join us for a virtual trip with a Zoo educator expert introducing these amazing creatures. Program includes introduction, an up-close animal visit and a live Q&A.

Cost: $3
Please register by 12/15/2020 here: https://signup.rice.edu/OISSwinter/ (available starting November 2nd)
Zoom Details will be sent to you on 12/16/2020 via email after confirming registration.

Bayou Bend Gardens Visit - Tuesday, December 22, 2:30 - 5:00 pm

This event is sold out!

Let's get out there to enjoy the weather and 14 acres of beautiful gardens in Houston's historic River Oaks neighborhood. OISS is purchasing your entry ticket! (1 per family)

We will meet you at Bayou Bend at 2:30 pm. The garden closes at 5:00 pm.

Cost: Your own transportation to and from the garden (approximately $11 Uber ride each way)
Please register via: http://bit.ly/oiss-bayou
Website: https://www.mfah.org/visit/bayou-bend-collection-and-gardens/
Special note: Face mask required

CANCELED – Re-Gifting Party

This event has been canceled.

Do you want to re-gift your holiday gifts? Join us for a re-gifting party! You can make use of your unwanted gift and take home something else. We'll have milk, cookies and games to enjoy.
Happy New Year everyone!

Place: Meet us at the outdoor patio space located in front of the Welcome Center/Sewall Hall.
Please bring a wrapped small gift you wish to give away OR purchase something for $5 or under to participate in this fun re-gift exchange.
Please register via: http://bit.ly/oiss-regift
Special note: Face mask required

Friday Fun Trivia - Friday, January 15, 4:00 pm

Join us for a fun virtual trivia and a chance to win a prize! You can play solo or on a team with your housemates.

First place winner takes $25 competition award.

Join Zoom Meeting: https://riceuniversity.zoom.us/j/99260468728?pwd=MEc3bGNtNFNKSG13QThFdjA5YVdkQT09
Meeting ID: 992 6046 8728 | Passcode: 083397

Show the PICS - Throughout Winter Events (November 21 - January 15)

As the saying goes pictures speak a thousand words and we would love to hear from you!

We invite you to submit photos of places you visited with us or events you joined during this year's OISS Winter Events. This is not a competition and you don't need to be a master photographer to share something that captured your imagination, lifted up your spirit or made you feel happy. We'll post the photos on this website for everyone to see the places we were fortunate to visit and the experience we shared together during this winter break despite the unique and unusual time we're living in.

Time: Throughout the OISS' 2020-2021 Winter Events
Format: All photos should be submitted as either JPG or PNG files
Submit your picture(s) at http://bit.ly/oiss-photos

Special Note: OISS reserves the right to edit, publish, or otherwise duplicate any photo submitted on the OISS website and possibly other OISS materials, including OISS flyers and newsletters (no commercial use included).
Winter Events Pictures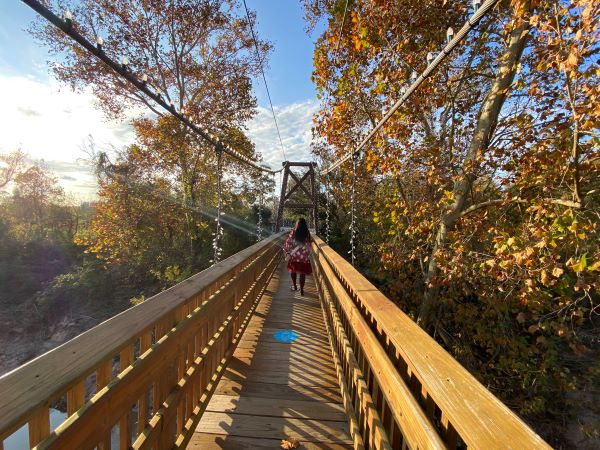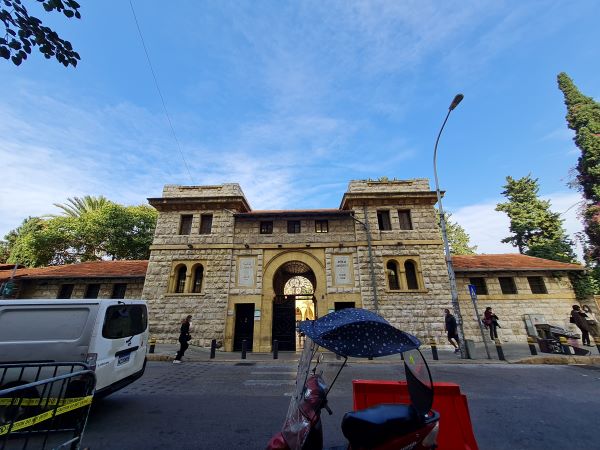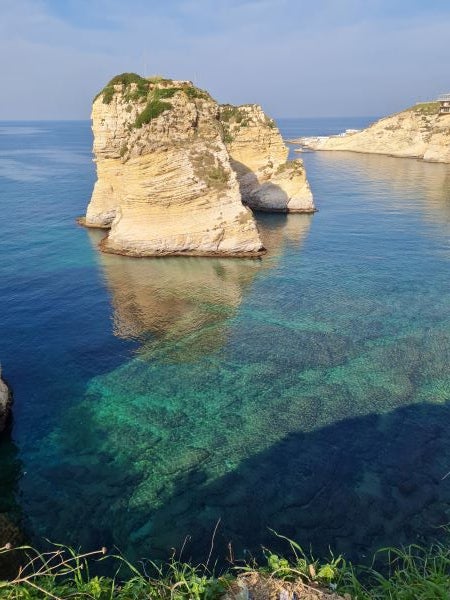 For Summer Events in previous years, please click here.

For Winter Events in previous years, please click here.