(updated as of 11/6/2020)
Information on Spring 2021 coming soon!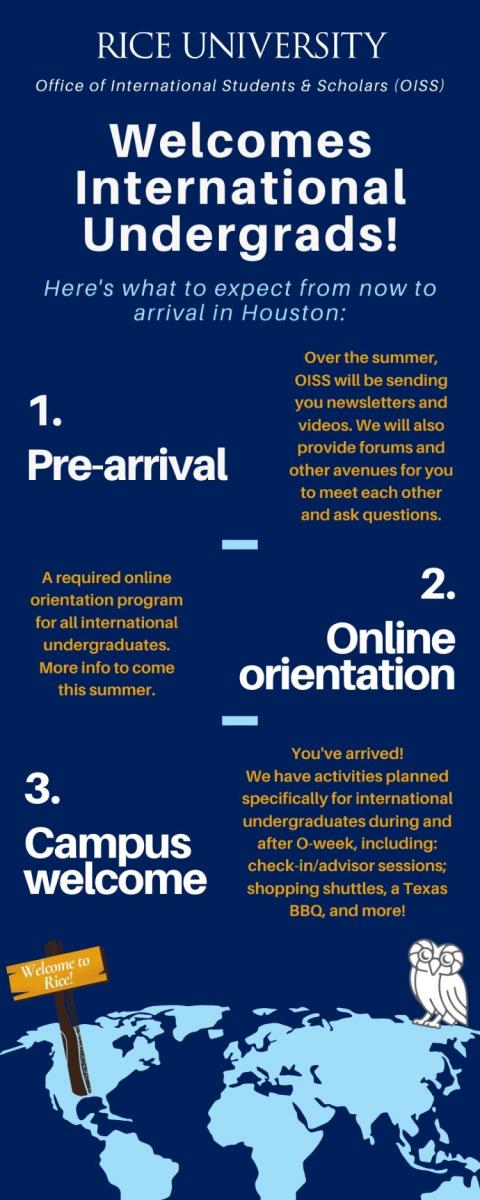 UIO Updates

August 2020: There will be 2 International Student Zoom sessions during O-Week for all new international undergrads, one on Tuesday, August 18 and one on Thursday, August 20. Please check your email for details.
Please also read the information that applies to you below, depending on if you will be coming to Houston for Fall 2020, or if you are studying remotely!

June 2020: There will be 2 Zoom meetings for international undergraduates on June 20 and July 19. Check your email for details.

May 2020: Pre-Arrival Packet. If you have not yet done so, please make sure to download your pre-arrival packet at: http://bit.ly/oiss-welcome.

Spring 2020: UIO student staff have been selected. It is an extremely competitive position and OISS is very honored to work with this amazing group of student leaders. Meet the 2020 UIO Student Staff: https://oiss.rice.edu/uiostaff.

Important Information for Students Coming to Houston for Fall 2020

Students on an F-1 Visa

Unless you are Canadian, you need a U.S. F-1 visa to enter the U.S.

Make sure you have paid the $350 SEVIS fee before you enter the U.S. You shouldn't be able to get a visa without paying this. Canadians need to pay as well. Go here to pay: https://www.fmjfee.com/

What to pack

Carry-on luggage:

Original passport
Original (and most recent) I-20 for F visa students
CBP letter printed out for F-1 visa students (see below)
Electronics
Cash
COVID-19 supplies: face mask, hand sanitizer, etc.

Checked luggage:

Basic toiletries (e.g. toothbrush, toothpaste)
Summer clothes; temperatures will be around 36°C.
Sweater or light jacket. It gets cold inside - lots of air conditioning!
An umbrella and possibly rain boots; it rains in Houston often.
Small items from home to decorate/remind you of family.
Adapters for U.S. plugs.

Entering the U.S. / Customs and Border Protection

F-1 students should print out the most recent CBP letter in http://bit.ly/oiss-welcome prior to travelling to the U.S.
Upon arrival, anyone (including U.S. citizens) is subject to having their electronic devices searched and social media accounts viewed by Customs & Border Patrol (CBP).
Ensure the Officer at CBP stamps your passport as F-1 "D/S" when you arrive if you are on the F-1 visa. If you are on another visa, make sure you receive the correct stamp as well.

Getting to Rice from airport

See pre-arrival information "Traveling to the U.S." at https://oiss.rice.edu/prearrivalinfo.

COVID-19 Testing times/latest Rice info

https://coronavirus.rice.edu/undergraduate-students
Student Success Initiatives has a great website with multiple hotel choices near Rice if you can't arrive during the scheduled testing times - https://success.rice.edu/parents-family/new-families-orientation/hotels

Banking

https://oiss.rice.edu/banking
Chase Bank is the bank that Rice uses. There are 2 ATMs on campus – in the library and student center. Chase will extend its hours August 17 – 19 for Rice international undergrads from 5pm – 7pm. General hours are: Monday-Friday 7:30 am to 5 pm. More detailed info to come.

Cell Phones

https://oiss.rice.edu/cell-phones
There is a T Mobile store next to Target (see below) or a AT&T store in Rice Village (which is in walking distance of Rice).

Note: Many times retailers will try to sell you the most expensive plan – remember you can ALWAYS upgrade so do not feel pressured to purchase more data, minutes, etc. than you need.

Shopping

We will have a shuttle to take you to Target on Sunday (August 16, from approx. 10am – 2:30pm) and Thursday (August 20, from approx. 5pm – 7:30pm). Great place to get just about everything from notebooks, to a pillow, to snacks for your room. More info to come.

Classes

Students will be required to enroll in at least 12 credits and those on the F-1 visa will be required to register for at least one in-person class (3 credits). Please work with your academic advising team during O-Week to make sure you are registering properly. If you have questions about academic advising, please go to: https://oaa.rice.edu/.

OISS Mandatory Document and Check-in

Completing the mandatory immigration check-in, a requirement for all international students regardless of visa type, requires several steps. To start the process, please upload all documents labeled "Post-Arrival E-check-in" in your OISS Portal account. Some you can upload already, but others (e.g. I-94 and port of entry stamp) will not be available for you to upload until you have entered the U.S. The final step of the check-in process is attending a check-in Zoom appointment with me on Thursday, August 20 at 2pm, so save the date! The check-in will last 1 hour.

Important Information for Students Studying Remotely (not in Houston) for Fall 2020

Those on F-1 visas should be receiving a new I-20 from OISS, via email, shortly showing a Spring 2021 program start date.
If you are planning to come on the F-1 visa in the Spring and have not finished the online orientation, please do so. It's still important to complete even if you are not coming to Rice in August. We only have a handful of those that have not completed it, THANK YOU to all of those who have! :)

Resources

Frequently Asked Questions

When do I need to arrive in Houston?
O-Week starts on Sunday, August 16. You will want to confirm your arrival time with your residential college as there are designated move-in times. For more information on move-in, please see: https://success.rice.edu/first-year-programs/o-week/getting-rice.

What if I want to arrive earlier?
You can arrive up to 30 days before the program start date on your I-20/DS-2019 but will not be able to move in to your residential college until Sunday, August 16. If you are looking for a local hotel, Hilton Houston Plaza/Medical Center is right next to campus. For reservations and the Rice rate, see:

Booking Link: https://secure3.hilton.com/en_US/hi/reservation/book.htm?ctyhocn=HOUMCHF...
Hotel: Hilton Houston Plaza/Medical Center
Company Name: Rice University
For questions, contact Jenny Brydon at jenny@rice.edu.