International Education Week is an opportunity to celebrate the benefits of international education and exchange worldwide. This joint initiative of the U.S. Department of State and the U.S. Department of Education is part of our efforts to promote programs that prepare Americans for a global environment and attract future leaders from abroad to study, learn, and exchange experiences in the United States. -http://iew.state.gov/-

We all know that food brings people together. Therefore, to celebrate International Education, OISS is collecting a list of International Recipes to be shared among the Rice community. To submit your favorite international recipe, please visit http://bit.ly/IEWrecipe. For more information about International Education Week at Rice, please visit oiss.rice.edu/iew.
List of recipes submitted (click on the name to view a specific recipe)
Click on the name to view recipes from a specific country.
Brazil; Costa Rica; Finland; Hungary; India; Iran; Kazakhstan; Kenya; Mexico; Spain; USA; Vanuatu
---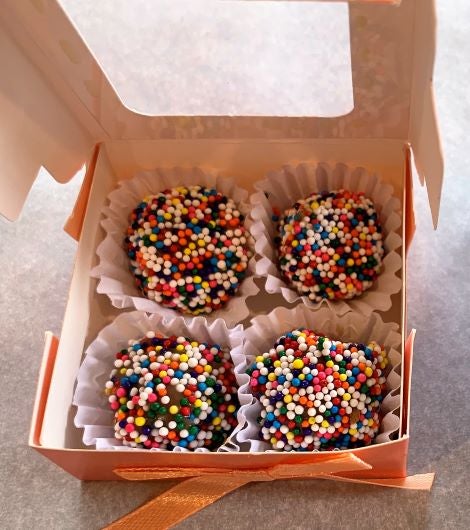 Brigadeiro
Brigadeiro is a delicious caramel-like chocolate dessert that is present at almost any Brazilian celebration. It is enjoyed by young and old alike!

Ingredients:
1 can (14 oz.) of sweetened condensed milk
3 tablespoons of powdered chocolate (cocoa powder, Nesquik)
1 teaspoon of butter (optional)
sprinkles (optional)
Steps:
In a medium saucepan over medium heat combine the condensed milk, chocolate, and butter. Continue stirring until the mixture begins to thicken, around 8 to 10 minutes. It will start to boil and thicken to the consistency of caramel. Remove from heat and let cool.
Once cooled, you may eat directly from a spoon, or you may make the traditional brigadeiro balls. To make the balls, it is easiest if the brigadeiro is chilled in the refrigerator. Then using butter on your hands to keep the brigadeiro from sticking, form little balls that can then be rolled in the sprinkles of your choice.
Submitted by Sandra Bloem-Curtis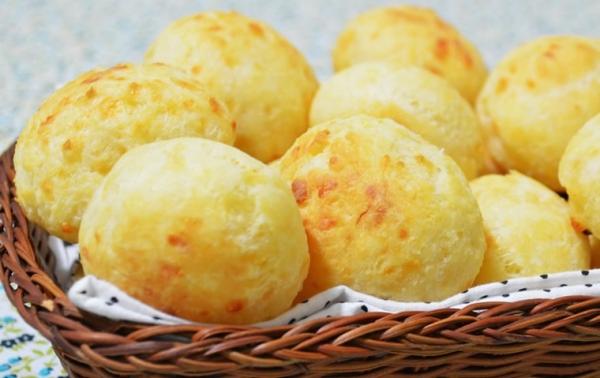 Easy Brazilian Cheese Bread

Ingredients:
1 large egg
1/3 cup extra virgin olive oil
2/3 cup milk
1 1/2 cups (170 grams) tapioca flour
1/2 cup (packed, about 66 grams) grated cheese, your preference, we get good results with feta cheese (no need to grate), or fresh farmer's cheese (if using fresh farmer's cheese, you may want to add another 1/2 teaspoon of salt)
1 teaspoon of salt (or more to taste)
Special equipment: One 24-well or or two 12-well mini muffin tins. Mini muffin tins are about half the size of a regular muffin pan. The muffin openings are about 1-inch deep, and 1 3/4 inch wide at the top.
Steps:
Pre-heat oven, prepare mini-muffin tin: Preheat oven to 400°F. Spread a small amount olive oil around the insides of each well of a mini-muffin tin.
Blend ingredients: Put all of the ingredients into a blender and pulse until smooth. You may need to use a spatula to scrape down the sides of the blender so that everything gets blended well. At this point you can store the batter in the refrigerator for up to a week.
Pour into mini-muffin tin: Pour batter into prepared mini-muffin tin, not quite to the top; leave about 1/8 inch from the top.
Bake: Bake at 400°F in the oven for 15-20 minutes, until all puffy and nicely browned. Remove from oven and let cool on a rack for a few minutes.
Eat while warm or save to reheat later. Note that Brazilian cheese bread is very chewy, a lot like Japanese mochi.
Submitted by Marjorie Cerejo
Carrot Cake Cupcake
A perfect company for a freshly brewed cup of coffee or tea, this golden cupcake with a shiny chocolate glaze is delicate in flavor and hard to resist. It can be enjoyed straight out of the pan, mixed with chocolate chips, or stuffed with Brigadeiro for an extra treat.

Ingredients:
125 grams of carrots
130 grams of flour
160 grams of sugar
2 eggs
100 ml of vegetable oil
1/2 tablespoon of baking powder
Pinch of salt
1 tablespoon of corn starch (optional)
Glaze:
5 tablespoon of sugar
2 tablespoon of unsweetened cocoa powder
1 tablespoon of butter
1/2 cup of milk
Steps:
Preheat the oven to 350°F and prepare the paper cupcake molds.
Sift all dry ingredients together and set aside.
Add the carrots, oil, and eggs to a blender and beat until the carrot is well crushed.
Add the flour mixed with the other ingredients and mix until you get a homogeneous cream.
Pour the mixture into the molds and bake for 30-40 minutes or until a toothpick inserted in the cupcake comes out clean.
For the glaze, place all the ingredients in a pan and cook over medium heat. When it starts to boil, turn it off and spread on the cupcakes, still warm.
Enjoy!
Submitted by Cynthia Evans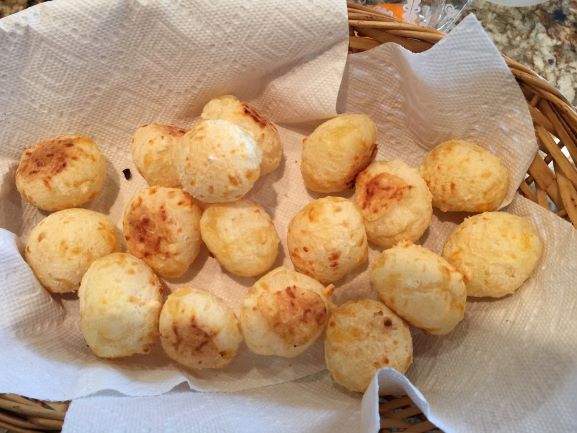 Pão de queijo
Traditional Brazilian Cheese Bread

Ingredients:
1 kg of Polvilho Azedo/Manioc Starch
1 cup of water
1 cup of vegetable oil
1.5 cups of milk
3-5 eggs
2-3 cups of cheese depending on the choice of cheese (you may use mozzarella, cheddar, romano, parmesão or a mixture)
salt to taste
Steps:
Preheat oven to 425 degrees.
Pour water and salt in a bowl with the manioc starch and mix it well.
Pour vegetable oil, milk, and into a large saucepan, and place over heat. When the mixture comes to a boil, remove from heat immediately, pour into the starch and mix until smooth.
Stir the eggs and cheese into the tapioca mixture until well combined. Drop rounded, 1/4 cup-sized balls of mixture onto a greased baking sheet. Bake in preheated oven until the tops are lightly browned.
Submitted by Mayra H. Lemos Onuchic
Tres Leches Cake
A dense, moist "three milks" cake topped with whipped cream. This recipe is from Costa Rica, but this cake is also popular in Mexico and many other Central American countries.

Ingredients:
Cake:
1 cup of sugar
5 large eggs, separated at room temperature
1/3 cup milk
1/2 tsp vanilla extract
1 cup all-purpose flour
1-1/2 tsp baking powder
1/2 tsp cream of tartar
Milk Syrup:
1 can (12 oz) evaporated milk
1 can sweetened condensed milk
1 cup heavy (or whipping) cream
1 Tbsp dark Cuban rum
Whipped Cream:
1 cup cold heavy whipping cream
1 tsp of vanilla extract
1 tbsp powdered sugar
Decoration: Canned peaches in light syrup

Steps:
Cake:
Preheat oven to 350F. Generously butter a 13 x 9-inch baking dish. (I use a baking spray. It's like Pam except it has flour and butter.)
Beat 3/4 cup sugar and the egg yolks until light and fluffy, about 5 minutes.
Fold in the milk, vanilla, flour and baking powder.
Beat the egg whites to soft peaks, adding the cream of tartar after 20 seconds (they'll be foamy at this point. The cream of tartar helps to stabilize the eggs so they'll form soft peaks. Make sure the eggs are room temperature before you crack, separate, and try to make them rise. It won't work if they're too cold).
Gradually add the remaining 1/4 cup sugar and continue beating until the whites are glossy and firm, but not dry.
Gently fold the whites into the yolk mixture.
Pour this batter into the buttered baking dish.
Bake the cake until it feels firm and an inserted toothpick comes out clean, about 30 minutes. (Check it at 25 minutes and make sure it doesn't over bake!)
Let the cake cool completely in baking dish. Pierce the cake all over with a fork, taking care to not tear it up.
Milk Syrup:
Combine the evaporated milk, sweetened condensed milk, cream, and rum in a mixing bowl. Whisk until well blended.
Pour the syrup over the cake, spooning the overflow back on top, until it is all absorbed. (Wait 5 minutes after pouring then just pour the excess back into mixing bowl, give it about a minute and re-pour it over the cake. It tends to absorb the excess well the second time)
Whipped Cream:
Before getting started, place your mixing bowl and beaters in the refrigerator or freezer for about 10-15 minutes to chill. I usually place mine in the freezer for about 10 minutes. Once chilled, remove from the refrigerator or freezer.
In the bowl of a stand mixer fitted with the whisk attachment, or in a large mixing bowl using a hand-held mixer, add the heavy whipping cream, powdered sugar, and vanilla extract. Start mixing on low speed, then increase the speed to medium-high until soft or stiff peaks form.
Frost the cake with the fresh whipped cream and canned peaches (in light syrup, you don't want them to be too sweet). Is very lightly flavored so it won't compete with the cake.

Submitted by Irene Mendez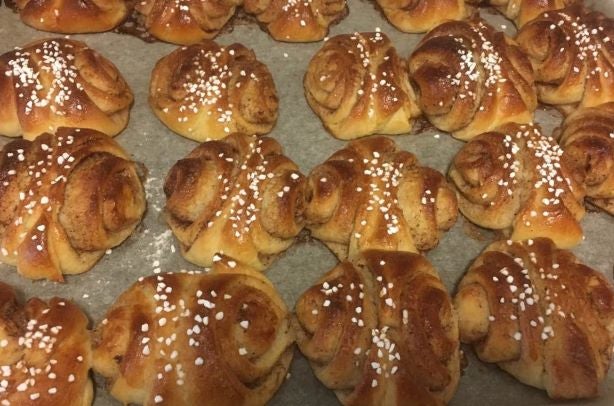 Korvapuustit
These Finnish pastries resemble American cinnamon buns, but are much better!

Ingredients:
1 1/4 cup lukewarm milk
1 1/4 sticks unsalted butter (room temperature)
2 oz. yeast or equivalent dry yeast​
1/2 cup sugar
1 tsp. salt
1 tbsp. cardamom
1 beaten egg (plus 1 beaten egg for final glaze)
3 to 4 cups all-purpose flour
Garnish: pearl sugar or rock sugar (for dusting)
For the filling:
3/4 sticks unsalted butter (melted)
1/2 cup sugar
2 heaping tbsp. cinnamon
Steps:
In a medium bowl, dissolve yeast in the milk and let stand for 10 minutes.
Meanwhile, mix dry ingredients, i.e. flour, salt, sugar and cardamom in a large bowl.
Knead butter into the flour mix and then add the beaten egg and milk. Work the dough until smooth. Dough should lose most of its stickiness and pull away from the side of the bowl; add flour as needed.
Cover the dough and allow to rise for 1 hour.
Roll the dough into a thin rectangle. Brush with melted butter and sprinkle with sugar and cinnamon.
Starting from the long side, tightly roll each half into a long "snake"; with a sharp knife, make diagonal cuts to get ~15 triangular rolls.
Place each roll, point up, on cooking sheets, then use a finger or a spoon to press down each tip to form ear-shaped rolls. Cover with clean towels and allow to rise another hour, until doubled.
Preheat oven to 400 F. Brush each roll with beaten egg, sprinkle with pearl or rock sugar and bake on center rack for 12 to 15 minutes, or until golden brown.
Submitted by Andy Meretoja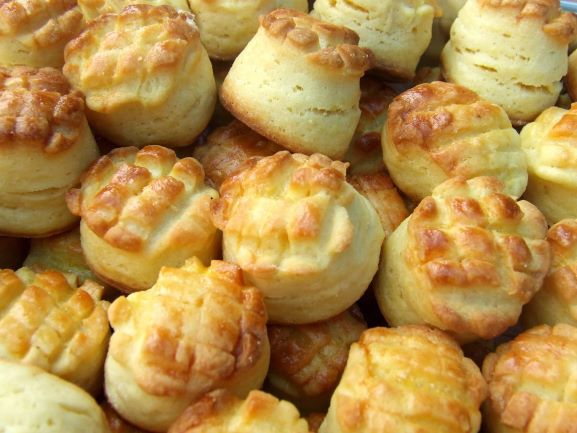 Túrós Pogácsa/Cheese biscuit
The Hungarian pogácsa is a savory snack that is offered in every house, corner stores and metro stations around the country. The size and basic ingredients may differ but the shape is always round and the taste is majestic! This recipe is from the book Culinaria Hungary: A Celebration of Food and Tradition.

Ingredients:
10 1/2 oz/300 g cottage cheese
2 1/2 cups/300 g flour
5 tsp baking powder​
1 1/4 cups/300 g butter
1/4 teaspoon salt
Lard or white vegetable fat for greasing
1 egg yolk for glaze
Steps:
Knead the butter, salt, flour, and cottage cheese to a smooth dough. Rest in the refrigerator for at least 2 hrs.
Preheat the oven to 390 degrees.
Roll out to just under 1/4 inch/5mm, and fold to four layers of thickness. Repeat this process four or five times.
Score the top and cut into small rounds with circular cutter.
Place on a grease baking sheet. Brush the tops with beaten egg yolk, ensuring that it does not run down the sides.
Bake in a preheated hot oven for about 30 minutes.
Submitted by Agnes Vajtai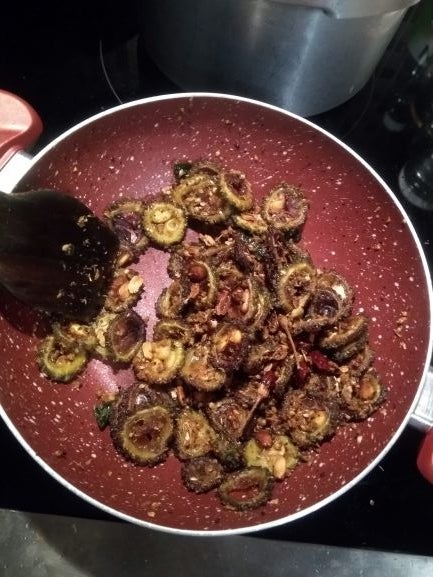 Spicy bitter gourd
Shallow fried slices of bitter melon are mixed with blended spices and garlic to give a very unique flavour masking the bitterness.

Steps:
Cut bitter melon into slices, remove seeds if desired. Add a pinch of turmeric and salt, mix with hand and allow it to settle for 3 mins. Squeeze the water out of the slices and keep them ready for frying.
Dry roast a teaspoon each of black gram (the inner white part), split bengal gram, corriander seeds, 5 dry red chillies, 5 garlic cloves, 5 g of tamarind for 3-5 mins without burning it.
Heat oil in a pan and shallow fry the bitter melon slices for 5 mins with continuous stirring.
Blend the dry roasted ingredients with added salt.
Mix the spice powder into the bitter melon and fry for 2 mins. Cover for 2 mins for flavours to be absorbed.
Serve hot with rice (include a side of plain yogurt to tame the spice!)
Source: https://www.vahrehvah.com/bitter-gourd-karam

Submitted by Prashant Kalvapalle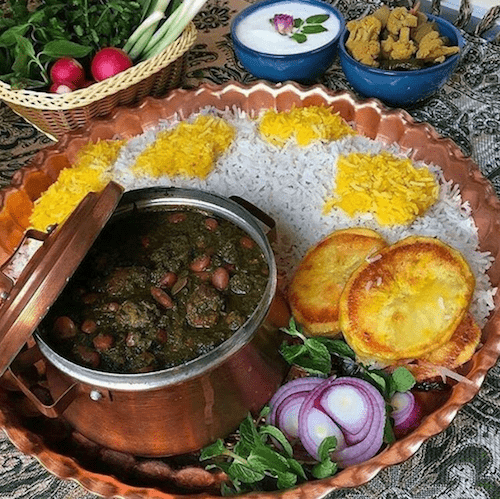 Ghorme Sabzi
"Ghormeh sabzi" is deliciously savory and loaded with the flavors of several different green herbs. It's traditionally served with white rice.

Ingredients:
400 g Veal meat
500 g Herbs for stew (leek, coriander, and parsley with the same amount; fenugreek and spinach 1/3 of the leek amount)
200 g Red beans
1 Onion
2 Dried Limes
Black pepper
Salt
Turmeric
Steps:
To remove the bloating of red beans in Ghormeh sabzi, we have to soak beans for several hours in the water. If it is possible to soak red beans from the last night, it's much better and it completely removes its bloating, while it's easier to cook.
Chop the onion into dices and sauté it in a pan or pot until its color slightly change and becomes golden.
After the onions are soft, add turmeric and the pieces of meat to it and stir the meat, so that the color changes slightly. Add some red beans to meat and fried onions after cooking meat.
Sauté stew herbs after washing and mincing with a little oil in a separate pan for about 15 minutes and then add the stew.
Now pour about 3 glasses of warm water inside the pot.
Pierce the dried limes with a fork and pour into the stew.
Increase the flame of the oven to boil the water of the stew.
When the stew is boiling, reduce the heat and let it cook for at least 2 hours slowly.
During this time, check the stew to make sure that the stew has enough water and does not burn.
In the end, add the salt and black pepper, and open the lid of the pan for about 10 minutes so that Ghormeh Sabzi be fully cooked.
Submitted by Nima Soltani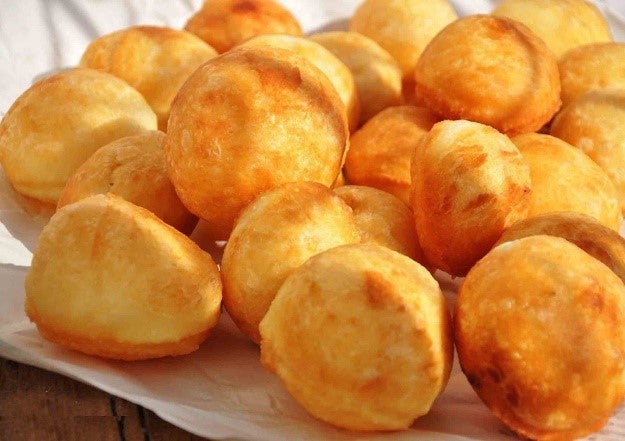 Baursak
Baursak is a type of fried doughnut, but not as sweet as the American doughnut. According to Wikipedia a Guinness record was made in Almaty, Kazakhstan on September 7, 2014 during the celebration of Mother's Day, when 856 kilograms (1887 lbs) of baursaks were cooked in one place in one day.

Ingredients:
4 cups flour
2 tablespoons yeast
1/2 cup water
1/2 cup warm milk
2 eggs
2 tablespoons butter or margarine
1 1/2 - 2 tablespoons sugar
1/2 teaspoon salt
2 cups vegetable oil
Steps:
Mix the ingredients in a large mixing bowl to form dough.
Knead the dough for about 5 minutes until it is springy.
Cover the dough and allow to rise for 40-50 minutes.
Heat oil in deep skillet over high heat.
Pull off tablespoon-size pieces of the dough and roll into a ball.
Press down slightly, then drop carefully into oil and fry until golden brown.
Place on paper towels.
Optional: sprinkle with sugar/sugar powder. Baursak is often eaten with any of these: sugar, butter, jam, or honey.
Submitted by Elmira Ganiyeva
Beef and Potato Pilau
Pilau is like fried rice and in this case potato and beef added to it. It is possible to make vegetarian pilau without any meat. Pilau is best served with kachumbari, a simple tomato salad that consists of sliced tomato, red onion, cilantro and spicy pepper tossed with a generous pinch of salt and lemon juice. It complements the pilau quite nicely and gives you the full Kenyan experience.

Ingredients (for 8 servings):
PILAU MASALA
2 teaspoons ground cumin
1 tablespoon paprika
1 teaspoon ground cardamom
1 teaspoon black pepper
1/4 teaspoon ground cloves
PILAU
1/4 cup vegetable oil
2 medium red onions, thinly sliced
4 cloves garlic, minced
2 tablespoons ginger, minced
1 serrano chile, finely chopped
1 tablespoon pilau masala
2 beef stock cubes
1 cinnamon stick
1/4 cup fresh cilantro, roughly chopped
1 lb beef sirloin, cubed
3 roma tomatoes, diced
1 lb potato, waxy, peeled and cut into 1 inch (2 cm) chunks
4 cups water
2 cups basmati rice
Steps:
Make the pilau masala: In a medium bowl, combine the cumin, paprika, cardamom, black pepper, and cloves. Set aside.
Heat a large pot over medium-high heat. Add the oil and red onion and sauté for 10-15 minutes, until dark brown.
Add the garlic, ginger, serrano chile, pilau masala, beef stock cubes, cinnamon stick, and cilantro. Cook for 1-2 minutes, until fragrant.
Add the beef and cook until browned, about 8 minutes.
Add the tomatoes and cook for 4-5 minutes, until the tomatoes have released their liquid.
Add the potatoes and the water. Bring to a boil and cook for 10 minutes.
Add the rice, stir, and cover. Reduce the heat to medium-low and cook for 20 minutes, until the rice is cooked and the liquid is absorbed.
Enjoy!
https://tasty.co/recipe/kenyan-beef-and-potato-pilau-as-made-by-kiano-moju

Submitted by Abigael Kosgei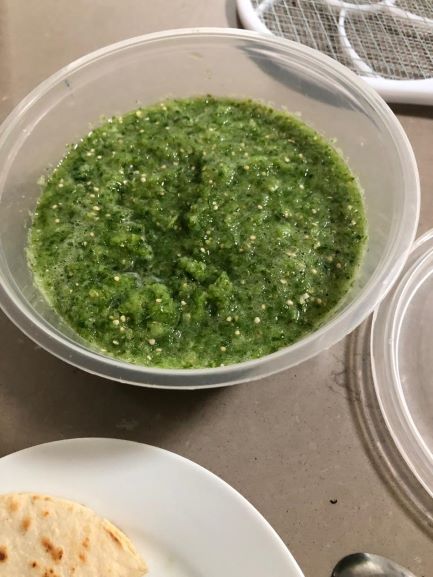 Salsa verde con aguacate
Delicious cold and tasty sauce that can be as spicy as you like. It can be used to eat with tortilla chips, quesadillas, tacos, tostada, molletes, and on top of rice.

Ingredients:
1 small avocado
1 pound tomatillos (about 8), husks removed, rinsed, quartered
1 (or 1/2) serrano chile
1/4 medium white onion
1/2 cup cilantro
Kosher salt
Put all the ingredients except the salt in a blender, and blend until smooth. Season with salt.

Submitted by Maria Corcuera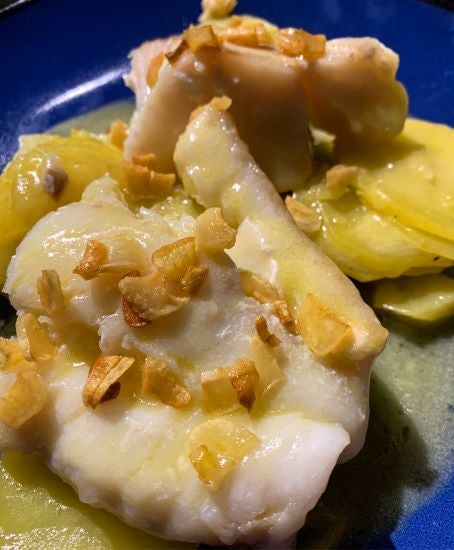 Bacalao al pil-pil
Bacalao al pil-pil is a traditional cod based dish from the Basque Country. It is a very popular dish all over Spain, you can find it in almost every restaurant. Despite the simplicity of the dish, since it's made just of cod, garlic, chilli pepper and olive oil, it is very tasty. Constant motion (or using a milk frother which does the trick!) allows the olive oil and salt cod to emulsify into the fantastic pil-pil sauce, which needs to be creamy. Hope you enjoy it!

Ingredients:
4 pieces of fresh cod
5 garlic cloves, sliced
1/2 dried red chilli pepper (we call it guindilla)
300ml extra virgin olive oil
Milk frother
Salt
Steps:
Put the olive oil in a sauce pan and heat it over medium heat.
Once the oil is hot, stir in the garlic and fry them until they get a golden colour. Set aside.
Briefly sauté the chilli pepper. Set aside.
In the same olive oil, cook the cod pieces over medium-low heat, covered, first with the skin on the top and then with the skin touching the oil, for around 5 minutes each side.
Save the oil with the juice of the cod in a bowl, and set the cooked pieces of cod aside.
Once the oil has cooled down a bit, add the liquid that the cooked cod has released to it and use the milk frother to mix the oil and the juices. It will create a yellowish smooth sauce. Add salt to taste.
Pour the oil sauce back to the pan with the cod and briefly warm it up a bit.
Serve the fish with the sauce and the garlic and chilli on top.
As side, oven cooked potatoes or rice work very well.
Submitted by Elena Camacho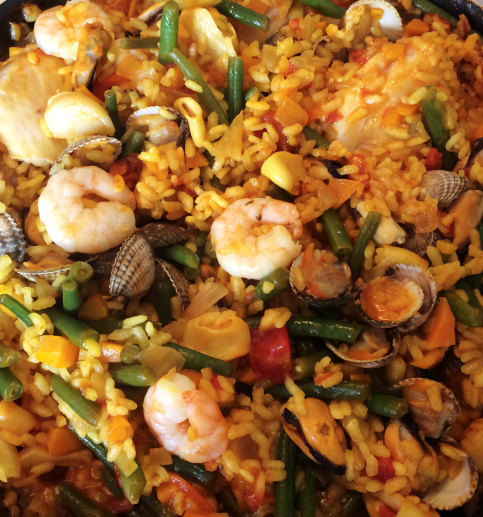 Paella
It is a typical rice dish from Spain, coming from the eastern region of the peninsula, Valencia. There are many different recipes for this dish, some people only adds meat, or fish, or vegetables, and some others mix everything together. It also goes very well together with a garlic sauce called alioli. This is my version of the dish, hope you like it!

Ingredients:
46cm paellera or just a big non-stick pan
Olive oil
800gr chicken, diced in approx 3 cm cubes
400gr pork loin, diced in approx 3 cm cubes
400gr green beans, halved
1 big onion, diced
2 carrots, diced
200gr ripe tomatoes (I used the canned ones)
10 garlic cloves, pealed and halved
12 big shrimps
200gr mussels, with or without the shell
100gr clams, with or without the shell
200gr calamari rings
2 cups of rice (bomba or arborio)
Salt, pepper, paprika, saffron
4 cups of water or broth
1 lemon
If you can't find mussels, clams and calamari rings separately, they some times sell a frozen "paella mix" with all of these ingredients together
For the garlic sauce or aioli:
1 garlic clove
1/2 cup of milk
Sunflower oil
Parsley, 3 to 4 leaves
Steps:
Cover 1/3 of the pan approximately with olive oil and heat over medium-high heat.
Fry the garlic until they acquire a golden color. Set aside.
Fry the meat until it's well sealed. Set aside.
Fry the carrots and onions until the onions become soft and transparent.
Stir in the tomatoes and, after 4-5min add the green beans, stir for about 3 min.
Mix everything well, stir in the meat and the calamari.
When the green beans become soft, add a tablespoon of paprika and mix well.
Stir in the rice and fry for 2 minutes.
Add the water or broth together with the saffron and salt. Mix well and boil over high heat for 10 minutes.
Lower the heat to medium-low, add the clams and mussels, and cook the rice for other 8-10 minutes.
Try the rice, it should be al dente.
Remove the pan from heat and let it rest for 5 minutes.
For the garlic sauce, put the garlic clove and parsley in the jar of a hand blender. Add the milk and start blending the ingredients together. At the same time, pour the sunflower oil little by little by the side of the glass while you blend everything together. The mix should thicken up. Stop adding oil when you get the desired yogurt-like texture. Add salt to taste.
Squeeze a bit lemon juice over the paella before eating it. Mix a bit of the garlic sauce and paella in every bite, you'll love it!
Submitted by Elena Camacho
Chicken Spaghetti

Ingredients:
1 whole chicken
1 pkg. vermicelli or thin spaghetti
2 pkgs. chopped broccoli
Sauce:
1 can mushroom soup
1/2 can milk
1 c. chicken broth
3/4 - 1 lb. Velveeta cheese
Steps:
Boil chicken with salt and pepper. Debone chicken.
Save 1 cup of the chicken broth for the sauce. Boil the vermicelli in the remaining broth.
Cook broccoli as directed on package, but add no salt. Drain broccoli.
In saucepan over low heat, melt the 4 ingredients for the sauce.
Mix chicken, vermicelli, broccoli and sauce in large casserole.
Bake at 350 degrees for 30 minutes.
Submitted by Adria Baker
Vanuatu Mango Ice Cream
Mango ice cream recipe from Vanuatu, Melanesian archipelago (Pacific Ocean).

Ingredients:
2 cups mango pulp
6 oz. mango, cut into small dice
3/4 lb sugar
1 cup milk
1 1/2 cup evaporated milk
4 eggs
3 tablespoons lime juice
a pinch of salt
Steps:
Heat milk and take off the heat just before boiling.
Beat the eggs with the sugar until foamy, then incorporate the milk slowly, while continuing to beat.
Stir in evaporated milk and mango pulp, lemon juice and pinch of salt, and mix well.
Finally add the mango dice and mix well.
Leave to cool and put in the refrigerator for 12 hours.
Place the preparation in the bowl of an ice cream maker and turn it on, stir for 30 minutes.
Enjoy!
Submitted by Silvia Fernandez-Diaz