We are bringing "My World" (virtual) tours back for International Education Week!
During the quarantined spring of 2020, we traveled with "My World" (virtual) tours to 16 countries on 6 continents (with almost 500 participants attending with us from Rice, as well as friends and families from various countries around the world). In celebration of International Education Week 2020 and 2021, "My World" tours returned for IEW special editions, and we got to enjoy wonderful additional tours! We heard amazing stories, and saw so much of the beauty of our world through Rice international students' and scholars' presentations and perspectives. The virtual My World trips were fascinating, educational, inspirational, heart-felt, relaxing and often made us hungry with all the great foods. The questions and discussions are so fun, and made us laugh and think – all at the same time. Thank you, thank you for the tours!

Now in celebration of International Education Week "My World" tours are back!

Update: If you missed the wonderful presentation by Rodrigo, Alejandra, Lucas, and Matías, a recording is available to view at https://rice.box.com/s/0xyekglbciijnoq9s2e4wf1drmgzde94
Paraguay – Thursday, November 17, 4:00 - 4:30pm
Tour by Rodrigo Galeano (Masters student in Chemical Engineering), Alejandra Lezcano (Masters student in Architecture), Lucas Moreira (Masters student in Electrical and Computer Engineering), and Matías Romero Moriya (Masters student in Data Science)
Join Zoom Meeting: https://riceuniversity.zoom.us/j/96046268213?pwd=K3cyNFFKc28rb3NjOUhncXJvb3QrQT09
Meeting ID: 960 4626 8213 | Passcode: Paraguay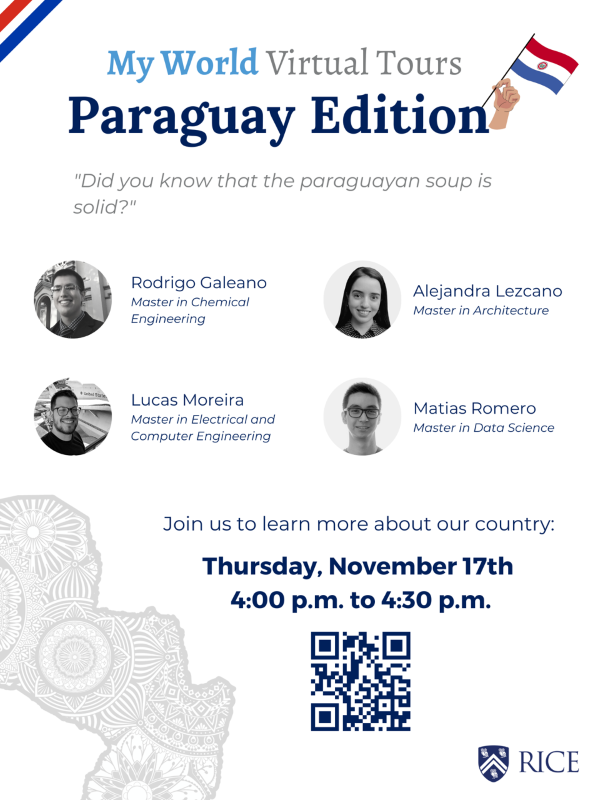 ---
Past "Tours"
Thursday, 11/11/21 – Lebanon & Philippines: Asia "End-to-End" with Huckie Del Mundo & Manwal Harb – Recording available at https://rice.box.com/s/qgrxb3vxtggdf4ppwzd5teqj7tw2vmcr
Friday, 11/13/20 – Rice at SUSTech special live tour with Yiyi Yang and Harper (Tianyi) Bo
Wednesday, 11/11/20 – Learn to read Hangul in a few minutes (language spoken in South Korea) with Yuseon Kim
Monday, 11/9/20 – Netherlands with Jesse van der Meulen – https://www.youtube.com/watch?v=Oxv6IRcuNaI&t=1s
Friday, 5/29/20 – Puebla and Cholula, Mexico with Maria Corcuera
Tuesday, 5/26/20 – Berlin, Germany with Dr. Fatima Baig
Friday, 5/22/20 – Costa Rica with Irene Mendez – https://www.youtube.com/watch?v=u3ldfW6IZnM&list=PLJ6RoZdyqR7ox6cb910zz1...
Tuesday, 5/19/20 – Wuhan, China with Thea Xu – https://www.usatoday.com/videos/news/health/2020/04/08/covid-19-wuhan-ch...
Friday, 5/15/20 – Mongolia with Dr. Guanhui Gao
Tuesday, 5/12/20 – Honduras with Dr. Luziris Pineda Turi – https://www.youtube.com/watch?v=xApFQ9g19T8
Friday, 5/8/20 – South Korea with Yuseon Kim
Tuesday, 5/5/20 – Adelaide, South Australia with Dr. Tom Coleman – Wiki page for Sir Donald Bradman: https://en.wikipedia.org/wiki/Don_Bradman
Friday, 5/1/20 – Brazil with Pedro Brandão Dias F. Pinto – https://www.youtube.com/watch?v=cAE5R6Qf1Uk
Tuesday, 4/28/20 – Argentina with Dr. Lujan Stasevicius – https://www.youtube.com/watch?v=hXt0JhMitc0
Friday, 4/24/20 – St. Petersburg, Russia with Anna Guseva – https://www.youtube.com/watch?v=6Ar6459jYGc&t=95s; https://www.youtube.com/watch?v=j-vLNe7pEv0&t=891s
Friday, 4/17/20 – Mexico with Maria Corcuera
Friday, 4/10/20 – Lebanon with Jacques Doumani
Tuesday, 4/7/20 – Algeria with Sofiane Louadah
Friday, 4/3/20 – Ecuador with Carlos Parra
Tuesday, 3/31/20 – Belo Horizonte, Brazil with Bárbara Magalhães – https://youtu.be/HvnN9kIJvCc
Rice News & Testimonial
Read the Rice News article about "My World" at http://news.rice.edu/2020/05/11/campus-kindness-international-students-show-off-their-home-countries-through-virtual-tours/

Testimonial from a presenter:
Thank you for giving me the opportunity to give a presentation about my home country! I love making presentations, and even more so when it's about the country I grew up in. For me this presentation was definitely the highlight of the quarantine and I'm really glad the audience enjoyed it as well. – Yuseon Kim, South Korea