(updated as of 04/13/2023)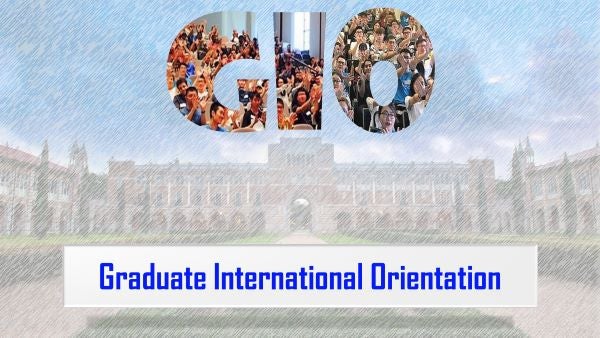 Howdy! – Once again, congratulations on your acceptance to Rice University!

We can't wait to meet you (virtually and in person), learn about you, and help you have a successful Rice chapter of your life!

You will receive biweekly email digests between now and start of the fall semester. You will have several virtual meetings and informational sessions throughout the summer with us, and two days of mandatory orientation sessions in August. You will also attend a mandatory check-in session when you arrive in the U.S.
Graduate International Orientation (GIO)

Graduate International Orientation (GIO) is a mandatory orientation program for all new international graduate and graduate exchange students. Students will review immigration regulations, graduate specific policies, and programs geared specifically to support the international graduate population.

August 14, 2023
August 15, 2023

These sessions will be held from 8:00 a.m. to 1:00 p.m. Houston time (CDT). Graduate students are required to arrive in Houston and attend the sessions on both days. The details will be emailed to students' Rice email address closer to the GIO.

Any student unable to attend due to visa delays must notify OISS in advance and schedule a make-up session. Unfortunately, those students who do not attend will have a hold placed on their student record, which blocks them from SEVIS registration until check-in and orientation requirements are met.

*Please note that MBA has a special session designed for MBA international students that will take place during the international immersion week. Since the GIO covers broader topics, we encourage MBA students to attend the GIO if their schedules permit.

GIO Events

We have organized the following events to meet with our new international students in-person on campus after you complete the Graduate International Orientation (GIO) sessions in the mornings of August 14th and 15th. Attendance in GIO sessions is mandatory, but attending the following events is optional. Students will need to sign up for these events to attend. The sign up link will be emailed to students' Rice email address closer to the GIO.

August 14 & 15, 2023
3PM to 4PM - Ice-cream Social
4PM to 5PM - Campus Tour

Stay tuned for the email with details!

August 16, 2023
5PM - 7PM – GIO Welcome Dinner

Please join us for the Graduate International Orientation Welcome Dinner at 5:00-7:00PM on Wednesday, August 16th at Rice University's Founder's Court. We hope you are able to attend and have a great time enjoying Texas BBQ, country music band performance, and learn line dancing alongside new international graduate students.

Students will receive an email with a link to RSVP soon. Kindly RSVP by August 6, 2023.

Graduate Meet & Greet

We will be happy to meet all our newly admitted graduate international students, welcome you to Rice, introduce you to your Rice student status, explain your next steps, and answer your questions.

These sessions will be held virtually from 8:00 a.m. to 10:00 a.m. Houston time (CDT). The invitations with details will be emailed to students' Rice email address closer to the events.

Immigration Check-in

All graduate international students are required to complete an immigration check-in. Please see https://oiss.rice.edu/orientation for the information.
If you have further questions, please contact us at oiss@rice.edu.